Any serious gamer knows that sound quality can make or break your scores. If you want the best headset for Escape from Tarkov, you'll have to find a comfortable headset that will also help you pinpoint sounds from your gameplay. The rest of the article will tell you all you need to know about our top 5 picks and why they might be perfect for you.
These are our top picks:
Let's break down the features and details of each so you can find the perfect fit for you.
Need a monitor as well? Check out our article on the best monitors for Tarkov!
1) Audeze LCD-GX – Our Top Pick
Product Highlights
The best part of the Audeze LCD-GX headset, as far as Escape from Tarkov is concerned, is the balance between the treble and bass. It allows you to hear minute details like footsteps, reloading queues, and rattles from weaponry. You won't miss details because the balance is skewed.
Features
Single-sided fluxor magnetic structure (100 db /1 mW @ 1Khz) – high sensitivity with low distortion
Interchangeable boom microphone cable – includes a mute button and flexible arm for customized positioning
It comes with a standard LCD series cable with a 1/8″ TRRS 4 conductor plug – the device is compatible with almost all PCs, Macs, and cellphones
What We Like About Audeze LCD-GX
The Audeze LCD-GX uses in-house productions for its fluxor magnets, so there is an extremely high flux density for a high-quality sound. But it also has diaphragms made to last that contribute to the overall clarity of the bass and treble frequencies.
Furthermore, the drivers are twice the size of those in other gaming headsets to give a vast range of audio. This means that gamers can pick up more audio queues with greater accuracy and frequency,  making them more aware of what's happening in the game.
Gamers can even pinpoint where sounds are coming from, which allows for a higher level of gameplay.
What We Don't Like About Audeze LCD-GX
Audeze LCD-GX headsets have a steep price tag, ranging from $1,099 to $1,299. While this may be fine for some gamers, most won't be able to afford them.
Pros & Cons
| | |
| --- | --- |
| | |
| Strong treble and bass balance | High price range |
| In-house productions for better sound quality | |
| Long lifespan | |
2) SteelSeries Arctis Pro + GameDac
Product Highlights
The SteelSeries Arctis Pro + GameDac has some of the highest resolutions on the market. The DAC unit with the headset has a wide range of features that help mix in-game audio with call and mid-game audio.
Features
Hi-Res audio system – paired with premium speaker drivers for surround sound and more accurate positional cues
Arctis ClearCast microphone – studio quality audio with noise cancellation for background noise
On-ear ChatMix – allows adjustments to game audio and voice settings
Adjustable suspension headband – can distribute weight evenly for better comfort for long gaming sessions
What We Like About SteelSeries Arctis Pro + GameDac
The best part of the SteelSeries Arctis Pro + GameDac is the customization of sound. While you can leave the default setting and get fantastic audio immediately, adjusting your sound during gameplay means you can pinpoint specific sounds more easily.
The microphone quality is also a lot higher than you will find in other gaming headsets. The background noise cancellation means that other gamers can clearly hear what you're saying, even if other things are happening in your house.
What We Don't Like About SteelSeries Arctis Pro + GameDac
There tend to be some issues with distortion from time to time, so you'll need to adjust the sound, especially out of the box. The bass resonance usually needs some customization as well.
Pros & Cons
| | |
| --- | --- |
| Pros | Cons |
| Wire eliminates lagging | Microphone distortion |
| DAC provides customization | Treble and bass balance can vary |
| Versatile | |
3) Beyerdynamic MMX 300
Product Highlights
The Beyerdynamic MMX 300 comes with a boom mic with excellent audio reproduction, which is impressive for team chats, streaming, and other audio recordings while gaming.
It also has incredible audio quality. The headset has a fantastic range and stereo separation, which means you can easily hear what is going on with the game, decreasing your reaction time.
Features
5 – 35,000 Hz frequency response – compatible with all gaming consoles
Nominal impedance headphones 32 ohms – high clarity of speech
Nominal sound pressure level 96 dB
What We Like About Beyerdynamic MMX 300
While the split cables of the Beyerdynamic MMX 300 may feel as if they are getting in the way, but they significantly contribute to the higher sound quality. They're also incredibly yet comfortable and table set of headphones, so if you have long gaming sessions, you won't get irritated by the headset.
They're also effortless to set up right out of the box. You don't have to mess around with any of the settings because if we plug them into your console or PC and immediately start using them with excellent quality.
What We Don't Like About Beyerdynamic MMX 300
The Beyerdynamic MMX 300 is definitely on the more expensive end. Even though it will offer better quality for many gamers, it simply falls outside their price range. It also relies on cables to plug in the device, which can hinder some gamers.
There isn't much customization, so if you don't like the out-of-the-box options, there isn't much you can do to change them. They're also very simple headsets, so if you like things like LED lights or diverse designs and logos, you will find that here. If you don't know much about audio options, then an out-of-the-box option might be better.
Pros & Cons
| | |
| --- | --- |
| Pros | Cons |
| Fantastic sound and stereo separation | High price range |
| Comfortable | Cables can get in the way |
| Split cables with inline controls | |
4) HyperX Cloud Alpha
Product Highlights
The HyperX Cloud Alpha's best feature is its comfort. Like its name, it feels like a cloud while you're wearing it. It has plenty of cushions and is lightweight, so you will barely know it's there, even during long gaming sessions.
Features
HyperX Dual chamber drivers – lessens distortion
Durable aluminum frame
Compatible with PC, PS4 (and Pro), Xbox (One and One S), Mac, cellphones, Nintendo Switch and VR
Detachable microphone – includes noise cancellation
What We Like About HyperX Cloud Alpha
The HyperX Cloud Alpha uses a split driver system with a subwoofer for enhanced bass and midrange. You can also custom the soft crossover and the treble.
This headset's cushions aren't only for comfort; they also help create a seal over your ears to better help you isolate the sounds coming from the game. The headset also includes beautiful stitch work, which makes this headset stand out compared to others.
What We Don't Like About HyperX Cloud Alpha
The HyperX Cloud Alpha has a wired connection which means that it is compatible with most consoles and devices, but it also means that you will be limited in how you can use them, especially if you want to use them with VR. It also has no control features, so if you don't like the sound settings, you're out of luck other than using in-game audio settings.
Pros & Cons
| | |
| --- | --- |
| Pros | Cons |
| Adjustable bass for each ear | Wired |
| Excellent isolation in microphone | No control features |
| Long lifespan | |
5) JBL Quantum One
Product Highlights
E-sports teams love the JBL Quantum One in championships, thanks to its extra features and audio quality. But the best feature of this headset is the head tracking software. The sound quality changes depending on how you move your head, creating a more immersive experience.
Features
JBL QuantumSPHERE 360 technology – head tracking sensors to help pinpoint sounds while gaming
True Active Noise Cancellation – actively monitors sounds in the environment and cancels anything unnecessary
Memory foam ear cushions – allows maximum comfort for long gaming sessions and a better fit to block out outside noise
Compatible with PC, Mac, Xbox, PlayStation, Nintendo Switch, cellphones, and VR
What We Like About JBL Quantum One
This headset's best feature is its ability to be genuinely immersive in Escape From Tarkov. Between the head tracking technology noise cancellation and paired with a top-of-the-line gaming mouse, your only limitation is your ability to keep up with the game. It also comes with programmable LED lighting, which means you can add a little flair to your headset.
What We Don't Like About JBL Quantum One
One of the biggest downfalls of this headset is the noise cancellation. While it does have its moments where it can create a very immersive experience, it also tends to be unreliable.
Another thing to remember is that it has limited control features, which means if you don't like the audio quality from the headphones themselves, you're limited to the audio settings in the game.
Pros & Cons
| | |
| --- | --- |
| Pros | Cons |
| Balanced audio | Audio quality can vary |
| Head tracking | Limited control features |
| LED lighting | Limited noise cancellation |
What to Look for When Buying a Gaming Headset For Tarkov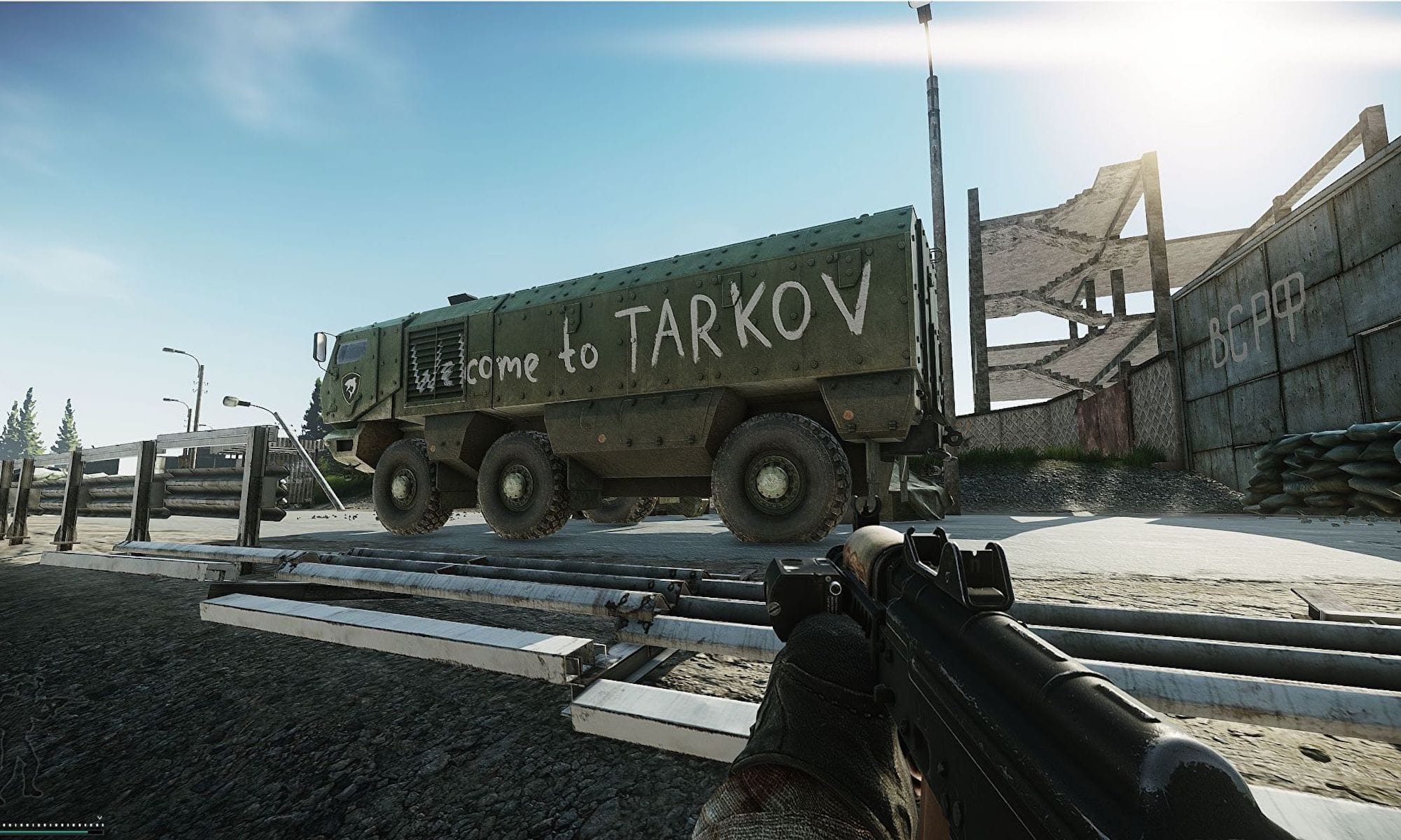 Maximum Comfort
Chances are you'll have longer gaming sessions, especially if you are a streamer or have a team you play with online. So one of the most important things is that your headset will be comfortable for long periods. You want to find an adjustable headset to ensure it fits you correctly and doesn't pressure in weird places.
You also want to ensure that the headset distributes weight correctly because having extra weed in the wrong place can lead to neck pain. If there's too much pressure on the headband, then you could get headaches from the pressure on either side of your head.
Isolation
Being able to pinpoint specific sounds can make a difference during gameplay. Poor isolation can mean you don't know where sound cues come from.
You also want to think of the material of the headphone pads, as this can significantly affect your ability to isolate specific sounds. If the pads can mold to the shape of your head, then they will fit around your ear a lot better.
Quality of the Microphone
Getting a headset with good audio quality from the microphone can be more hassle than you might think. But if you want your team to hear you while gaming or you are a streamer and want to be able to use the headset mic for your streams, then getting a quality microphone is imperative.
If you have an especially deep voice, then chances are you're going to sound like you're in a tin can regardless of how good the mic is. You may want to look into a detachable microphone to take it off and use a USB mic or replace it with a better-quality one.
Final Verdict: The Best Headset for Escape from Tarkov
While the Audeze LCD-GX has a higher price range, it makes up for its superior quality. Hearing even the slightest of sounds from your game can make a difference in your response time and keeping track of where other players are. This headset also lasts for a long time, so it is a good investment for the lifelong gamer.
FAQ
What is the warranty?
The Audeze LCD-GX has a 3-year warranty for the drivers and a 1 year for the rest of the headset. This is a standard warranty though some headsets on this list don't have a warranty, particularly some lower-priced ones.
Is there an LDC2 compatible microphone cable sold separately?
Yes, in most cases, if you contact the company, they will be able to sell you a microphone or replaceable microphone. However, you should look into whether or not the microphone is detachable. The majority of the headsets that are on this list do have a detachable capability where you can replace the microphone.
What would be a good DAC to drive for a gaming headset?
The best choices would be the Schitt Hel and Burson Playmate. However, the Astro Mixamp is also a good choice if you don't mind the lower power output, which won't work for more power-hungry headsets.
Does it come with a traveling case?
The Audeze LCD-GX comes with a traveling case, as does the Beyerdynamic MMX 300. The HyperX Cloud Alpha comes with a cloth bag for storage, but it won't help much if you want to protect your headset from rough traveling.
Can you purchase a replacement cable for the microphone? 
Most companies will have replacement microphones available on their website for you to purchase should anything happen to your microphone.