Text-based MMORPGs have been around for quite a while and provide players with an immersive, thoroughly enjoyable experience. In this guide, we've picked 6 of the best text-based MMORPGs you can play.
Here are the games we'll talk about in this guide.
Read on to learn more about these games and find out about their themes, plotlines, gameplay, and much more! Happy reading!
What Is A Text-Based MMORPG?
A text-based MMORPG is an online massively multiplayer role-playing game that is based on a text interface. These text-based games differ from the usual MMORPGs on the basis of the playing interface. Most usual MMORPGs are video games while text-based MMORPGs can be either video games or purely text-based role-playing games.
Text-based MMORPGs usually encompass themes such as fantasy, crime, drama, sci-fi, horror, and anime. Some categories of these games include play-by-post RPGs and human-moderated real-time games. Text-based MMORPGs are easy to play over the Internet on a web browser and enhance players' writing skills as writing is the primary form of communication in such games. Playing text-based MMORPGs is a fun experience as you experience virtual worlds, intriguing plotlines, and meet and play with other players.
Best Text-Based MMORPGs
Finding the best text-based MMORPG to play can be a difficult task given the plethora of games available. Here, we've picked 6 of the best text-based MMORPGs you can play. These games are hugely popular, have different themes, and are a pleasure to play.
1. DragonRealms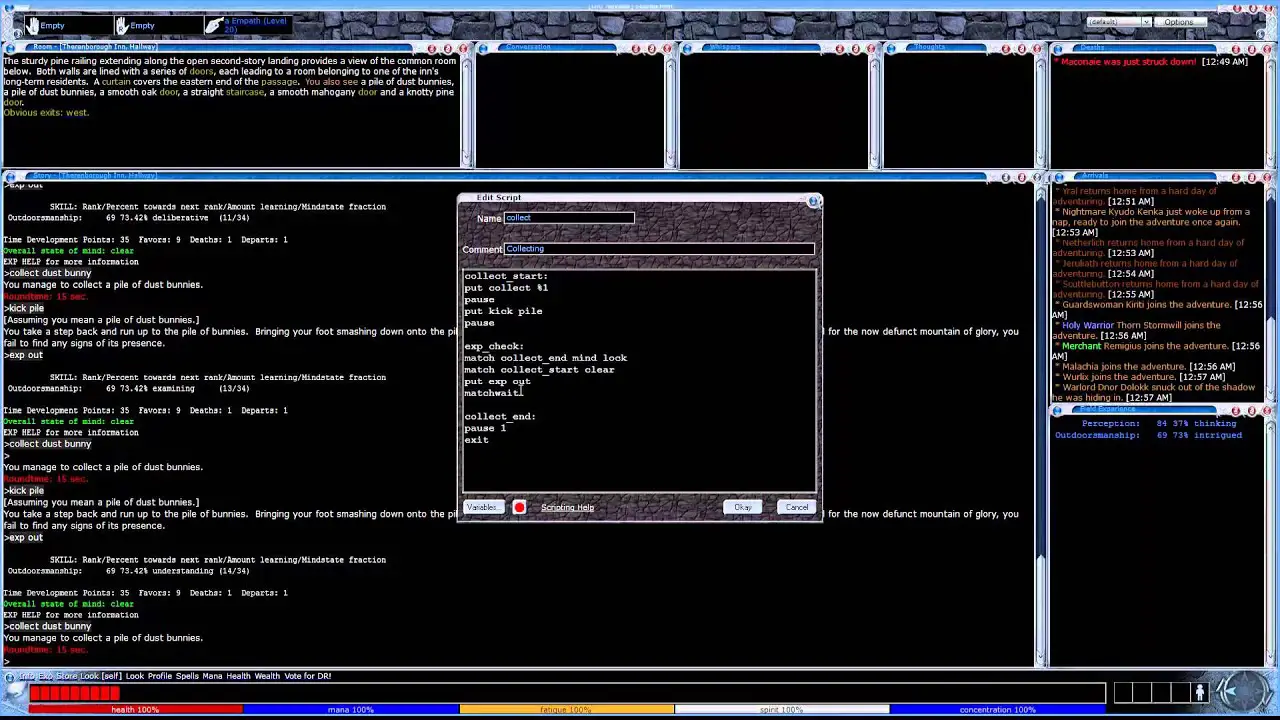 The first game we're going to talk about is DragonRealms. It is one of the most popular text-based MMORPGs with thousands of players playing this game during peak gaming hours. Released in 1996 by Simutronics, DragonRealms is a medieval fantasy game that takes place in the fictional world of Elanthia.
Players can exchange texts, work together with other players, and take up a multitude of roles and professions. You can also participate in combat, trade with other players, take magic classes, and increase your character level (known as circles). Suffice it to say, DragonRealms has all the key features you'd expect a role-playing game to have. And, like many text-based games, everything from a level change to other gameplay advancements, is shown in texts.
Since its release in 1996, DragonRealms has come a long way and has attracted thousands of enthusiastic players, making it a wildly popular game.
2. Blood Wars
Another text-based MMORPG we think deserves to be on this list is Blood Wars. Released in 2006, this Polish game has an interesting plot and revolves around a fictional post-apocalyptic world. It can be played in several different languages and has around a couple of hundred thousand player accounts.
In Blood Wars, players impersonate vampires and fight for survival and control in a post-apocalyptic world. The game is set in the only city that survived a nuclear catastrophe. Players start the game as newly-changed vampires and scavenge for resources in the ruins of the city and gradually rise in the game by fighting other vampires and completing quests. You can also make friends and gain support by joining clans. Players can choose from 16 playable realms.
With an engaging plot and a multitude of playing options, Blood Wars is a great choice for anybody looking for an exciting text-based MMORPG.
3. Urban Dead
Next up, we have Urban Dead. Released in 2005 by Kevan Davis, it is one of the best text-based MMORPGs in the post-apocalyptic / zombie category. Players can play either a survivor or a zombie by creating their own characters.
Set in the fictional city of Malton in a post-apocalyptic world, Urban Dead revolves around the aftermath of a zombie apocalypse and allows players to perform a plethora of activities, either as a survivor or as a zombie. Interestingly, zombies can be "revivified" into survivors and survivors can turn into zombies once they're killed. If you're impersonating a zombie, you try to attack survivors by breaking into safe havens. And as a survivor, you barricade yourself in safe spaces and try to fight off zombies.
In our opinion, Urban Dead is perhaps the best zombie or post-apocalyptic text-based MMORPG you can play and is definitely worth trying out.
4. eRepublik
eRepublik is another excellent text-based MMORPG that we highly recommend checking out. This game was released in 2008 by Romanian publisher eRepublik Labs and can be currently played in a host of different languages.
eRepublik is a fantasy game set in a world called the New World, where players can live as ordinary citizens, vote and fight for their state, participate in formulating social and economic policies, and form political parties. Players can also choose the country they want to join before they begin playing the game. This game is mostly text-based and has only a handful of visual elements. The theme of this game is unique and the world it is set in mirrors our real world in most aspects of life.
If you like MMORPGs that are primarily text-based and mirror the real world, you're certainly going to like eRepublik.
5. Titan Conquest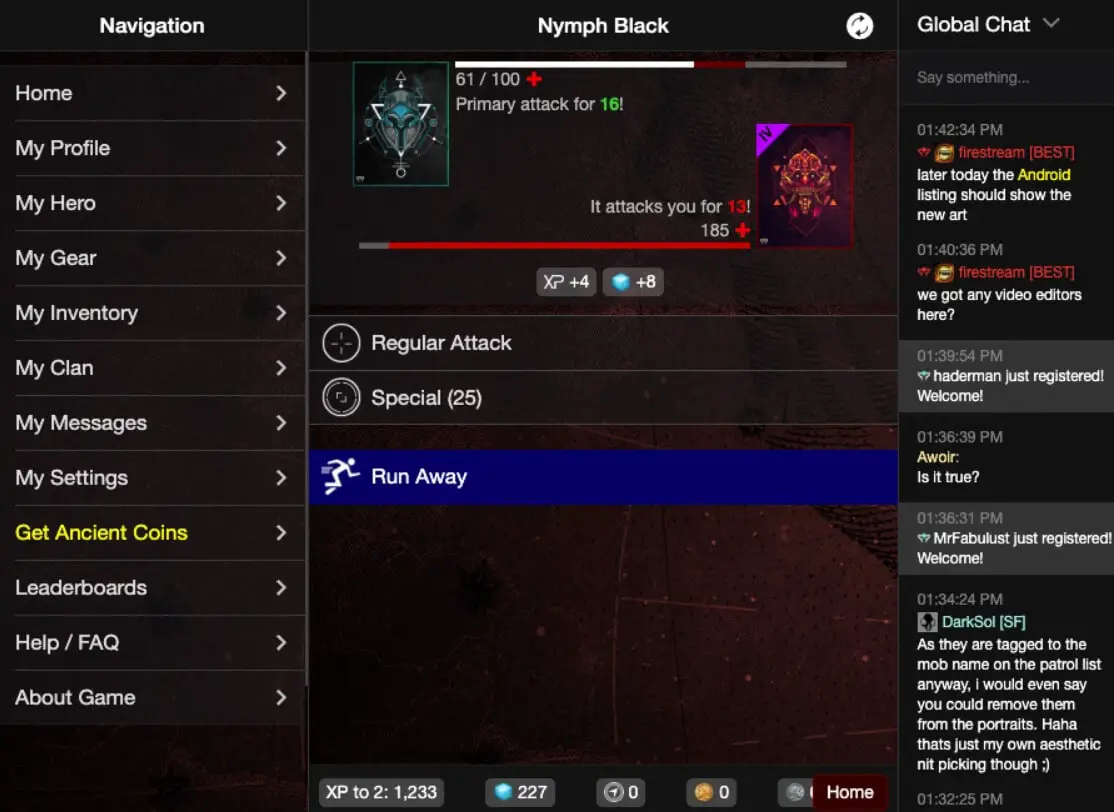 Titan Conquest is a relatively new text-based MMORPG that has become hugely popular in recent years. The game is free and can be played on any tablet, smartphone, or computer using an internet browser.
This mythology-themed game is set in the year 2378. As the name suggests, it revolves around defending Earth from Titans from all over the galaxy who threaten its existence. Players play the game by creating a hero, conquering territory, winning fights against other players, and rising up the levels of the game. Players can also buy equipment and other resources to help them on their journey. The game features plenty of visual elements as well as a text interface.
We highly recommend you try this game out. It is quite popular, and according to its website, Titan Conquest currently has over 110,000 players.
6. GemStone IV
GemStone IV is another text-based MMORPG we recommend checking out. The first version of the game, called GemStone, was released in 1988. The game was developed by Simutronics (the same developers that created DragonRealms) and is set in the fictional world of Elanthia.
Like some other games on this list, GemStone IV has a primarily text-based interface with almost no visual elements. The game has successfully run for decades and has thousands of players. As a player, you get to experience a plethora of places, meet hundreds of creatures, and solve loads of puzzles. GemStone IV revolved around a world that shares some similarities with our real world, but technology and magic are also part of the game's reality.
In a nutshell, GemStone IV has a lot to offer and we would certainly recommend playing it.
Final Thoughts
Text-based MMORPGs are fun to play and provide an amazing gaming experience with their text interfaces, vivid environments, intriguing plotlines, and fascinating worlds. Moreover, these games have different themes, so you'll find a game for any theme or genre you like. In this guide, we covered what we think are the 6 best text-based MMORPGs and we hope it helps you in choosing the perfect games for yourself. Happy gaming!