The video game Rocket League allows participants to partake in a fast-paced, wild game of soccer with a team of super-powered trucks as the players.
Rocket League is now a major esport. Because of its massive fanbase and the amount of people who view it and win money from it, it is hard to deny that Rocket League is now officially an esport.
Is Rocket League An Esport?
Rocket League is in fact an esport, thanks to its popularity and the amount of money earned by developer Psyonix.
Over the years, more than $1 million in revenues has been raised from the sales of in-game crates and items. That money has been used to fund competitive events to establish the game as an esport.
Major League Gaming has been holding seasons of Rocket League for participants for several years now. MLG has even televised some of the tournaments, proving just how successful and popular the game and its esports standing is.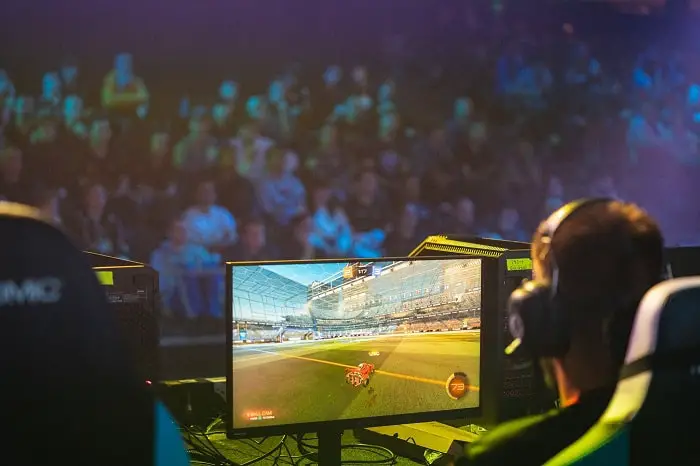 When Did Rocket League Become An Esport?
By most estimations, Rocket League officially became an esport when Psyonix announced the first Rocket League Championship in March 2016.
The first finals for the Rocket League Championship took place in August 2016, with a final prize pool of $55,000. Since then, the grand prize for these tournaments has ballooned into a total of $1,000,000.
Rocket League was seen as an esport to even the casual viewer around 2017, when competitive games started being broadcast on cable television. ESPN3 aired a $75,000 Rocket League tournament in July 2017.
Just a month later, NBC Sports created a $100,000 tournament for the game, and aired the proceedings on its network.
Other networks, such as Turner Sports and TBS, have also aired their own tournaments over the years, on television and on their streaming services. Rocket League has been one of the most-televised esport games in existence.
What Tier Esport Is Rocket League?
Most observers consider Rocket League to be a tier 1 esport.
Websites such as Sports Business Journal have claimed that Rocket League is officially a tier 1 game due to its monthly active users, its prize money totals, and the size of its viewership.
The massively popular game has gained a lot of esports teams lately, indicating it is accepted as an esport among video game fans. Teams like Team Liquid, FaZe Clan, and more, prove that the game has gained traction and popularity among many in the esports community.
Others claim that Rocket League is not yet tier 1 and is better described as a tier 2 or 3 esport. These people state that, while the game is very successful and has many fans and viewers, it is not yet at the same levels of games such as DOTA 2 or League of Legends.
They point to the fact that the biggest Rocket League event, the Season 8 World Championship, had a total of 215,000 Twitch viewers at one time. By comparison, the League of Legends 2018 World Championship reached 44 million viewers at one time.
For this reason, some people think that Rocket League is in a field below League of Legends and others.
Is Rocket League A Popular Esport?
It cannot be denied that Rocket League is a very popular esport. The game is only a few years old but has gained a lot of popularity during its short life cycle.
The game reached a height of 1,000,000 concurrent players after going free-to-play and on average pulls in about 100,00-150,000 every single day.
 It has also been revealed that the game has over 75 million players in total, though it is yet to be revealed how many of those players log in often and how many have moved on to other games.
The game is now playable on many different systems, from personal computer to Playstation 4 and 5 and even the Nintendo Switch. Whenever it debuts in a new format, it is quickly one of the most downloaded games.
Is Rocket League Esports Growing?
Rocket League is a growing sport that has found a solid, reliable fanbase.
Although it is nearly impossible to know the exact figures, it has been estimated that the game had an average of 90.5 million playing at some point during the month of March, 2021. If true, that number is far larger than previous estimates for the esport.
Other charts, like the Steam charts, show that Rocket League continues to find a strong fanbase that keeps it as one of the most popular games on the market.
The game is gaining in popularity because it continues to find new ways to be downloaded. Rocket League was recently launched on Nintendo Switch. Its massive popularity on other consoles and its free-to-play format made it immediately one of biggest games on the Nintendo eShop.
Some people argue that Rocket League has reached its peak and will begin to lose popularity soon. They state that the lack of a sequel for the game and a limited amount of game modes mean that it will soon lose regular players, in and out of the esports arena.
Psyonix has never revealed their intentions for a Rocket League sequel but there are rumors that they have something in the works. If so, that will once again be a large boost to Rocket League's popularity in the world of esports.
What Is The RLCSX?
RLCSX is the tenth iteration of the Rocket League Championship Series, an annual tournament run directly by Psyonix.
The competition began back in 2016 and has undergone a few changes over the years. It invites players from all over the world including North America, Europe, South America, and more.
RLCSX is created in a "split" format. There is the Fall split, the Winter split, and the Spring split. These splits are divided into three Regional Events that all lead to the International Major. Each region of the world has three tournaments and the winners will meet in the final major event.
The RLCSX is run on a point system, with victories awarding points to each win. The more points your team gains, the further you will get through the RLCSX.
Where Can I Watch The RLCSX?
RLCSX can be watched on several different venues on the internet. Psyonix streams the event on its official Twitch and Youtube Rocket League channels.
ELEAGUE is also offering some of the events on their official channels.
With the popularity of Rocket League as an esport staying steady, if not growing, it stands to reason that broadcast television channels may start broadcasting the RLCS tournament when it starts again.
Conclusion
Although Rocket League just started as a competitive multi-player game, it has quickly turned into an esport.
Not only is the game now officially seen by many to be an esport, it is also one of the biggest esports in the world. Despite that, it still has room to grow and could become even bigger in the years ahead.
Because of its loyal and growing fanbase, its multiple consoles, and its featured appearances on some major streaming and broadcast services, Rocket League is a wildly popular esport.