Rocket League is considered to be the hottest arcade-style soccer variant out there, using high-powered vehicles to create an incredible and intense spin on both soccer and arena-style driving games.
The developers have stated that the game will continue to receive support for the foreseeable future, meaning Rocket League will not see diminished play quality or player base for quite some time.
However, this means people want to play it more in order to keep their skills sharp and that muscle memory fresh.
Playing more means playing even when you may not have access to the internet, or even simply playing offline AI opponents to get in practice when you don't want to deal with the hassle or potential time investment of a full match.
This leads many people to wonder if you can play Rocket League offline, and if so, how? One of the questions we see most often is can you play Rocket League offline on current generation systems like the PS5 and PC, or previous generation platforms like the Xbox One, the PS4, and more.
We're going to take a look at this question in-depth, so that you know exactly how you can get into some single-player or two-player offline mayhem, no matter what system you're scoring on.
Can You Play Rocket League Offline?
If you are wondering if you can play Rocket League offline, the answer is without a doubt, yes!
You will be able to enter an offline match to fit your tastes. Generally speaking, you will be able to play two specific modes during offline play, though the process to get there will be slightly different depending on the platform on which you play.
Rocket League is available in offline mode on every platform it can be played on, from the PC to the PlayStation. In each case, the same limits apply to the modes of play, for example, season will always be single-player on all platforms, and the player limits on all platforms are limited to 4 players in a local, offline gaming situation.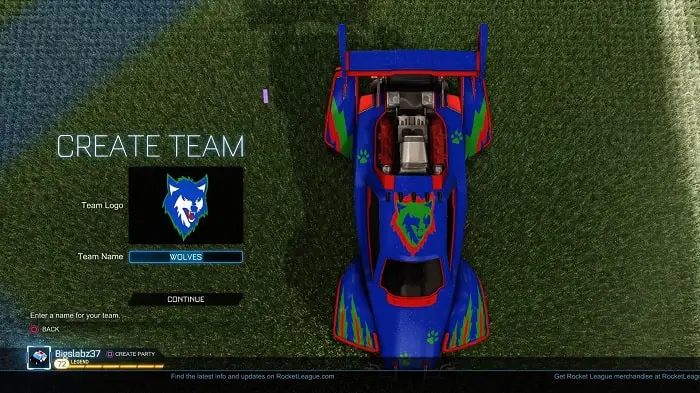 What Modes Can You Play In Rocket League Offline?
If you're wondering what modes can you play in Rocket League offline, you will have your choice between Exhibition matches and Season mode. Both have their benefits and drawbacks, but both make excellent options for filling time and practicing with offline play.
Exhibition Match
Exhibition matches are considered single matches, and just like playing the online version of the exhibition, you will be able to decide the match type and the stadium venue that you will play in.
This mode will allow you to play with up to 3 friends locally offline, as well as playing alone against a full complement of AI opponents.
If you decide to play offline with local friends, you will also have the option to play against each other in a split-screen environment, or against an AI team.
If you do decide to play against an AI team you will be able to determine their skill level and resulting difficulty. Since this difficulty can be hard to gauge initially, it's best to start with Rookie and see how you do. We find the AI to be more than capable at higher difficulties.
Season
Season is a mode that only permits play against an artificial team, and it is the quintessential single-player offline game mode.
You determine how many matches will make up the season, and how many players will be on both teams. You also pick the difficulty of the AI for the bots, as well as the cosmetic name and logo. The final option is how many teams will eventually populate the playoffs.
Season is an excellent way to give yourself a tiered practice difficulty, with near-infinite increments of a challenge due to how each match has the potential to play out. This means that Season can be an incredibly useful training and practice tool for all players regardless of skill or experience.
New players can benefit from conquering the learning curve without demolishing their stats, while experienced and veteran players will find enormous value in the training potential of the AI bot opponents, helping to keep your practice time consistently fresh and engaging
Does Rocket League Have A Singleplayer Mode?
A common question about offline play is "does Rocket League have a singleplayer mode?" The best way to get some single-player offline action in is to set up a Season.
Season mode is specifically singleplayer and pits you against the best of the best in terms of AI bot opponents.
Pick the specifics of your season, your opponents, and your playoff brackets, and you're all set. Season is perfect for a few quick matches, or to really push your practice sessions to the max.
How Many Players Is Rocket League Offline?
Asking how many players is Rocket League offline is a bit of a tricky question.
If you are talking about strictly human players, Rocket League can support up to 4 local offline players in a split-screen environment. This is the same for every platform that Rocket League is available on.
Season mode allows a single human player against AI, while exhibition can pit players against each other or AI bots.
How To Play Rocket League Offline
Now that you know Rocket League has great offline offerings, it's time to tell you how you play Rocket League offline.
Just take a look below, we've separated them by the popular platforms, so you know exactly which process will apply to you.
Play Rocket League Offline On PC
For PC players on Steam and Epic Games, you will sign in to Steam first then you will choose Offline Mode, which will give you the ability to then play custom games of Exhibition or Season types, with up to four local players connected via a controller adapter.
There is no LAN mode, so you won't be able to play friends on separate local machines, but you will be able to play various forms of 4-player split-screen experience.
Play Rocket League Offline On PlayStation
For PlayStation users, you will be able to access your offline play modes and split-screen features by first starting your PlayStation and launching your Rocket League game with the primary controller.
Then press the PS button on the second controller, turning it on and activating the sign-in for the second player. The options of "Get Started", "Sign In and Play", or "Quick Play" are given, with the second player being required to select one.
Once the new player has signed in, the game will return you to the main menu. Now the second player will press Settings, and it will place the player in the current game party lobby.
At this point, the primary controller can be used to create or choose the playlist for the party.
Play Rocket League Offline On Xbox
To play Rocket League offline on Xbox you do not even need an Xbox Live account, making it a great option for guests.
In order to play Rocket League on the Xbox, you simply need to turn on the Xbox and connect all controllers, up to 4, that you want to use to play. Once they are connected you will have the option to sign in to Xbox Live, but it is not required.
Once all controllers are connected and players are signed in, launch Rocket League from the main menu with the primary controller. Then each subsequent player will press the Menu button on their controller in order to join the active party.
Once this is done for each player then the party can play offline modes Exhibition or Season.
Is Rocket League Worth Playing Just For The Offline Mode?
This is going to be a relatively subjective question that may have different answers depending on what you want out of your Rocket League gaming experiences.
For example, if you are a relatively experienced gamer you will likely want to stick to the online multiplayer matches, since playing against other live human players will offer you the most challenging environment. This will help you hone your skills even further, increasing your ranking along the way.
This is also the only way to get those satisfying skin-of-your-teeth wins, which are nearly impossible against an AI opponent.
On the other hand, offline modes can be great training and practice for new and experienced players alike, allowing them to get solid practice time without having to worry about negatively affecting their stats or ranking.
For more experienced players the offline mode can also represent an opportunity to have a more relaxing game, where you aren't pushing yourself so hard to get that win.
We'll be first to admit, sometimes the matches that are low-effort dominations where you barely have to pay attention are the best for unwinding after work.
Sometimes, you may not even want to invest the time into a whole match if you can only play for an extra few minutes here and there.