If you are a fan of online multiplayer games, you'll know that the battle pass format has become the most common means of monetizing free-to-play titles.  With loot boxes and other nefarious transactions being phased out.
So in case you weren't aware, Rocket League has one of these passes too known as the 'Rocket pass'. This pass gives players access to new vehicle models, goal animations, and much more.
However, you may be wondering, is this pass worth investing in. Well, we aim to answer that question right now.
Here is our guide to the Premium Rocket Pass
Here's Why Rocket Pass Premium Is Worth it
So, we can categorically tell you that if you are a fan of Rocket League and get a kick out of cosmetic items, this pass is worth investing in. This pass will give you access to exclusive items that cannot be earned through any other means than investing in Rocket Pass Premium.
These items usually include a brand new car model along with other interesting items like new wheels, antennas, animated decals, boosts, trails, goal animations, and much more.
There are a plethora of items that you can obtain and even if you don't like them all, there is always the option of using these items to barter and trade when the season concludes.
After all, one man's trash is another man's treasure.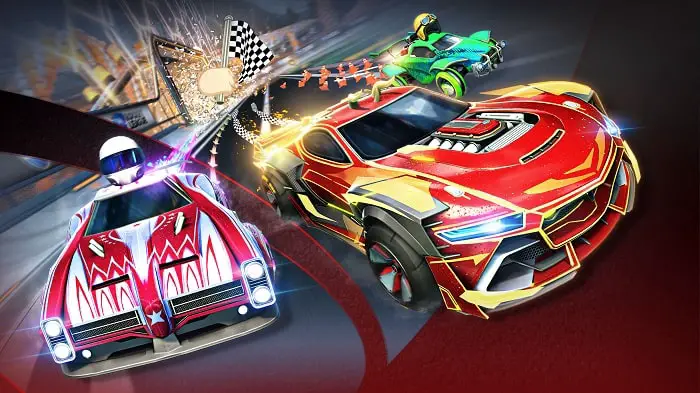 What Does Rocket Pass Premium Give You?
As mentioned, Rocket Pass Premium offers a wide selection of items to the player.
You will be gifted a new item with every level you progress. These items can be new car models, new wheels, new decals, or even additional credits to purchase items in the store. The items continually change with each new season and the items tend to follow a certain theme.
For example, the previous season at the time of writing was based on music, so players could unlock new additions to the soundtrack through Rocket Pass Premium.
How Much Does Rocket Pass Premium Cost?
The rocket pass itself is a completely free feature that only offers a fraction of the rewards of its premium counterpart.
However, if you wish to get the full benefit of Rocket Pass Premium, you will need to invest 1000 credits to purchase the pass. This is the equivalent of $9.99 and is around the standard price that you would see across all FTP games of this nature.
Does Rocket Pass Premium Pay For Itself?
It really depends on two things. How much you value the content you receive and the amount of time you spend rising through the levels.
To address the former, there are plenty of items you can obtain with 70 items being completely unique to the premium pass and the rest being rarer painted variants.
Then for the latter, if you rise through the levels, you will obtain credits that you can save and put towards the next season's battle pass. These are awarded at ten-level increments and award the player 100 credits.
This means that if you can commit to rising to level 100 every single season, you will only ever have to buy one single premium rocket pass.
Obviously, this is quite a time commitment but in theory, Rocket Pass Premium literally pays for itself, which is all the more reason to invest and play daily to ensure you cut the costs of your next pass.
Is Rocket Pass Premium A One-Time Purchase?
As mentioned above, Rocket Pass premium does have the capacity to be a one-time purchase provided you are willing to put in the hours to reach level 100 each season.
However, in general, the pass is a purchase that you will have to make every single season.
The reason for this is that the pass resets each season, offering new content, items, and more credits to earn. So you need to make the most of each pass before the next arrives if you really want to get your money's worth.
How Many Tiers Are In the Premium Rocket Pass?
As mentioned, the Rocket pass offers 70 unique items split by credit rewards every ten levels.
So in terms of brand new obtainable items, these stop at tier 80.
After this, players will have the opportunity to obtain rare painted variants of the items already obtained on the premium battle pass which are awarded at random. So in terms of new content, this ends at tier 80, but in theory, the Premium Rocket Pass has unlimited tiers so long as you are willing to continue ascending.
When Does The Premium Rocket Pass End?
The premium Rocket Pass ends when the current rocket league season ends.
Although the player is given plenty of prompts and warnings ahead of time. There is then typically a lull in-between seasons with no Rocket pass and then when the new season commences, another Premium Rocket Pass becomes available.
For example, the current Rocket Pass will end on the 11th of August 2021 and began on the 7th of April 2021.
How Long Does It Take To Finish The Rocket Pass?
This will depend on the rocket pass in question as each varies in terms of length.
However, as an estimate, every Premium Rocket Pass excluding the pro tiers, will take around 60 hours to complete.
This can obviously be shortened by completing the various challenges which appear both daily and weekly. There are also packages where players can buy tiers in exchange for credits which speeds up the process but obviously, this lowers the value for money that the player will receive.
How To Purchase Rocket Pass Premium
So with all the above in mind, you may be wondering just how do I purchase the Premium Rocket pass? Well, we have that answer for you in the form of a quick step-by-step guide. Here it is below:
Step One: Launch Rocket League and navigate to the main menu
Step two: When on the main menu, select the option 'Get Premium'.
Step three: Select upgrade for 1000 credits. This may redirect you to the Epic/PSN/Xbox Live storefront depending on how many credits you have. Complete your purchase and you will then have access to Rocket Pass Premium.
Final Thoughts
So that is our guide to Rocket Pass Premium and why it is worth investing in. What do you make of this guide? Was this helpful to you? What are you enjoying most about Rocket League at the moment? Let us know in the comments section below and as always, thank you for reading.